Cybersecurity Mentor Panel
Christopher Miller
CompTIA Network+
Christopher has 7 years of experience in the STEM and IT field, particularly with high school and colleges. Working with FIRST, an NGO that designs accessible, innovative programs that motivate young people to pursue education and career opportunities in science, technology and engineering.
Sean Adair
Cybersecurity Instructor
Sean Adair has 14+ years of experience in Cybersecurity at the U.S. Marine Corps. Sean has received 3 Navy and Marine Corps Achievement Medals, 1 Navy and Marine Corp Commendation Medal, 1 Combat Action Ribbon Multiple Certificate of Commendations.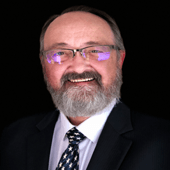 William Clark
Cybersecurity and Networking Instructor
William has over 30 years of experience with networking and cybersecurity in the retail, health care, government, military, and manufacturing sectors. William is an award-winning IT instructor with over 20 years of experience in the classroom delivering hands-on learning experiences to his students.
Peter J. Barbson
Network+ Instructor
Peter has 22 years' experience as a technical trainer, lead and courseware developer. He holds a BS computer science and Master's degree, both from Rutgers University. He spearheaded the development of many training initiatives in the Federal space including USPTO and Web Services.
Jeff Lockhart
Cybersecurity Instructor
Jeff has 14 years of instructing experience, during which he has assisted thousands of non-technical students in completing their IT certifications. Currently, he works with QuickStart as a Senior Instructor and ensures quality training is being delivered across different modalities and technologies.
Web Development Mentor Panel
Peter Kis
Web Development Instructor
Peter Kis is a freelancer full-stack developer living in Munich, Germany. He has worked in various enterprise environments as a full-stack engineer and currently he is freelancing for various clients across the world and develops his AI projects on the side.
Zsolt Nagy
Web Development Team Lead
Zsolt Nagy is a web development team lead, coach, and software engineer living in Berlin, Germany. He is also known for his recorded lectures and books. One of his well-recognized pieces of work is "ES6 in Practice" that covers the complete developer's guide
Barry Ross
Web Development Instructor
Barry Ross, a former instructor at General Assembly, has tremendous expertise in teaching website development. The bootcamp he will teach covers everything starting from HTML/CSS basics to layout techniques, programming concepts and responsive concepts.