Using "Now Micro Right Click Tools" with System Center Config Manager R2
When I teach the System Center Configuration Manager 2012 R2 course, I'm always asked about tools and utilities that will make the product better. One such utility is called a Right Click tool. What are Right Click Tools? A right click tool is a utility typically developed by a third-party company or developer, which adds functionality whenever an object with the product is right mouse clicked. There are several System Center Configuration Manager 2012 R2 Right Click Tools and utilities available. There are the PowerShell Right Click Tools, Dan Ireland has SCCM Console Extensions, Rick Houchins' SCCM Right Click Tools ConfigMgr 2007/2012, and the list goes on and on. The one that I use and love is Now Micro Right Click Tools.
I stumbled across this utility while browsing a Microsoft site. I downloaded it and haven't looked back since. Unlike some of the earlier Right Click Tools, this one installs as a Windows Installer package.
Accept the License Agreement
Select your folder options
Begin Install
Start your training journey now!
After the installation has completed, you're ready to enjoy the additional functionality of this utility.
You can install the Now Micro Right Click tools on any supported operating systems as long as the Configuration Manager Console has been previously installed.
The Now Micro Right Click Tool has Device options, User options, and Device Collection options. You access the Rick Click Tools by simply right mouse clicking a device, user or device collection in the Configuration Manager Console. The options vary depending on the object. When an administrator right clicks a computer device in the configuration manager console, he or she is presented with several additional features.
The following images illustrate what an administrator would see after selecting a device object and then choosing the Client Actions. These are the same options an administrator would normally have to Remote Desktop or log onto a client computer, open Control Panel and click the Configuration Manager Client Console to access these commands. The Now Micro Right Click Tools allow the convenience of console access to these client commands, along with additional functions and features that aren't a part of the Configuration Manager application.
When an administrator selects the Client Tools device option, the following device property options are available.
The Device Console Tools options present options that aren't available from within the console, such as Ping, Group Policy Update, Restarting or Shutting down the managed device or even Scheduling a restart or shutdown.
When an administrator selects a collection, he or she is presented with most of the same options as an individual device, except these actions apply to the entire collection instead of an individual device. I've captured three screenshots to show the Client Action on Collections, Client Tools on Collections and the Console Tools on Collections.
The Client Tools on Collection allows an administrator to add computer devices to collections, run client checks, or even repair or uninstall clients.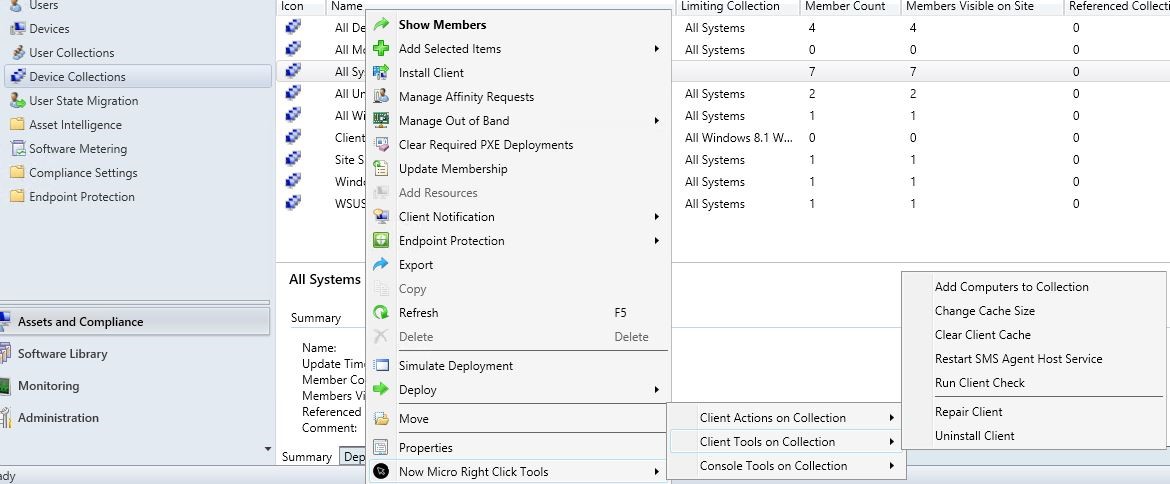 Finally, the User object allows an administrator to perform several Active Directory functions.
Again, there are several Right Click tools and utilities available to enhance the functionality of System Center Configuration Manager 2012 R2. Some are free while others require a license. As far as a free utility, the Now Micro Right Click Tool is definitely my favorite, and one I highly recommend to any SCCM administrator.
Jerome Jones, MCT, MCSE Private Cloud
Either copy the individual pricing or the team pricing depending on the button you want, and directly underneath it include the style.
Start your 30-day FREE TRIAL today
Enroll in our IT training program to launch your career in the field of technology.